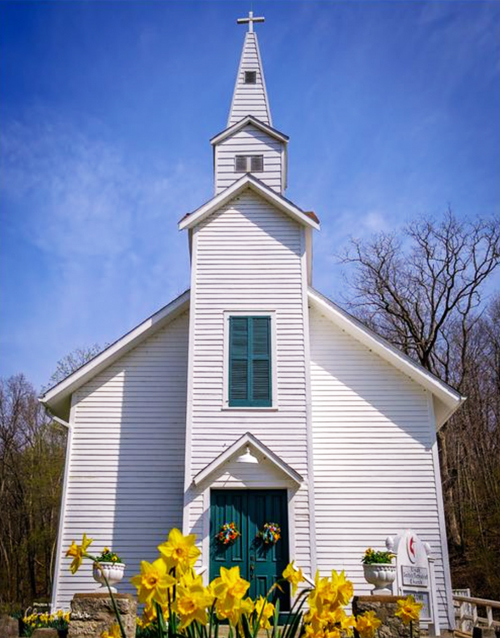 Address:
2 Valley Street,
Elsah, IL 62028
Service: Sundays at 8:45 AM
Welcome to Elsah United Methodist Church! We are grateful for your presence in worship. If you have no church home, ours is open to you. You will find the people here to be friendly and eager to meet you.
We are located just 40 minutes from St. Louis, Missouri and nestled snugly, almost invisibly, in a thickly wooded ravine, framed majestically by wind-sculpted bluffs, not far from the graceful broad expanse of the Mississippi River — the storybook-like village of Elsah captivates the attention and imagination of all who pass through its narrow, tree-shaded streets.
Built in 1874, our small Gothic church was the only house of worship in Elsah until the 1940s.
About Us
Foodbank of Greater St Louis,
Crisis Food Center of Alton,
Salvation Army Food Pantry of Jersey County,
Jersey County Salvation Army,
UMCOR World Hunger and Poverty,
Twigs Summer Lunch Program,
and, we celebrate our UMC Connection as a Multi-Year Five Star Giving Church.
Almost 200 years before Elsah appeared on any map, and well before white settlers began to occupy the Elsah riverfront, the limestone cliffs near the village witnessed the passage of many strangers in a new land.
In 1853, James Semple, a General in the Black Hawk War, bought land at a site near present-day Grafton. He had the land surveyed, laid out the town, and named it Elsah. To attract settlers, Semple gave land to anyone who would build a home of native stone. He donated land for a Methodist Church, a village meeting hall, and the school, which he built.
The early Elsah Methodist Society met in private homes until their parsonage was built in 1859 to serve the Grafton Circuit of the Church. Church service then took place in the parsonage. In 1874 Elsah's Methodists built and dedicated the present-day church. It is of frame construction, Gothic in style, with a native limestone foundation. The church itself is twenty-six by forty-two feet.
Elsah generally shared a minister with nearby Methodist churches. For example, in the early 1880s, the same pastor served Elsah, Salem, Otterville, and the old Bethel church near McClusky.
Today, the pastor serves Elsah, Alton Grace, and Hartford United Methodist churches.
I expect, that from the very first service held in this church, those who attended regularly had a warm and protective feeling toward the building itself, similar to the feeling we have.
We Christians cannot make our church building holy. We can dedicate a building and set it apart to be used for the worship of God; be we cannot make the building a holy house. The church service does not make the building holy, but certainly draws the congregation closer to God and closer to one another as they pay holy worship with like-minded church friends in "their house of choice" set apart for the worship of God.
God Bless this modest, yet perfect, little building that has served this community all these years. If walls could talk, I would love to hear the stories they might tell.
– Gary Edwards